Ferraro: Mixed pilafs have their own special place on the Iranian table. Baghali pilaf, cabbage pilaf, carrot pilaf, sweet pilaf, raisin pilaf, marsa pilaf, etc. are among the types of mixed pilaf that have their own fans at parties. Lobia pilou is one of the types of mixed and traditional Iranian pilaf which is cooked in different parts of the country in different ways and with different ingredients. Bean pilaf is a delicious and at the same time very festive dish. In the following article, how to prepare vegetarian bean pilaf without meat, along with important tips and techniques for preparing this dish, will be presented to you, dear users.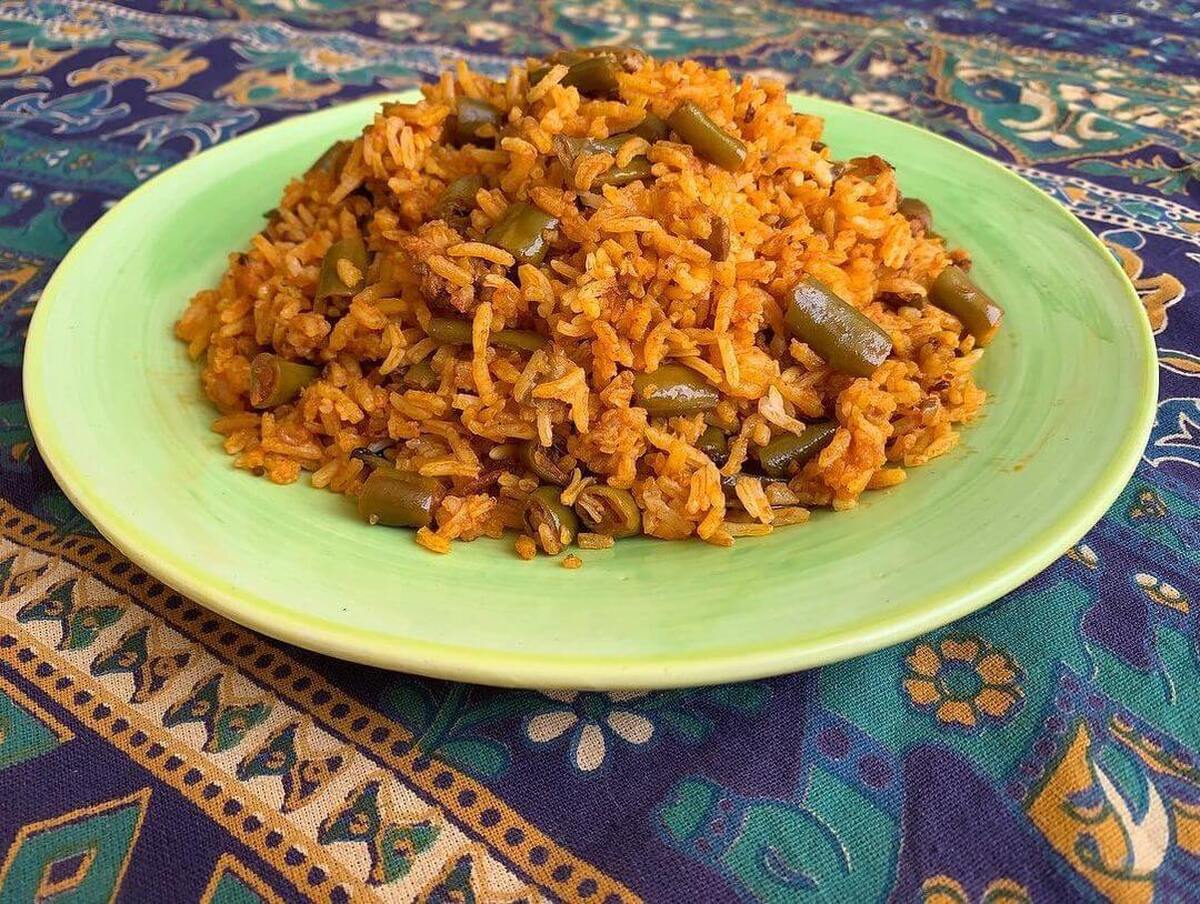 Necessary ingredients to prepare vegetarian bean pilaf
Rice: 3 cups
Green beans: 400 grams
Onion: 1 pc
Garlic: 3 cloves
Red bell pepper: 1 pc
Tomatoes: 4 pcs
Thick brewed saffron: half a cup
Black cumin powder: 1 teaspoon
Curry spice: 1 teaspoon
Salt and black pepper: as needed
Butter: 20 grams
Oil: as much as necessary
Notes on raw materials



1- Notes about green beans
Green beans are one of the fresh vegetables with very high nutritional value, which contain vitamin C, vitamin B, fiber and folate needed by the body daily. Always try to buy fresh and good quality green beans. Fresh green beans are usually hard and snap when cut in half by hand. If green beans are mushy or too soft, never buy them. Green beans with brown spots on their skins are not healthy. Usually small and thin green beans are very crispy and delicious and suitable for cooking. It is better to use small and crispy green beans to prepare pilaf beans.
2- Points related to saffron
Always try to use thick brewed saffron; Because the more you brew saffron with more water, the lighter it becomes and you have to use more saffron to get the desired color; Therefore, the method of brewing saffron is very important. To brew saffron, first completely powder the saffron without adding sugar. Then, for 1 teaspoon of saffron, add 2 tablespoons of boiling water and 2 pieces of ice to it. Adding ice shocks the saffron and gives it more color.
Store saffron in a closed container in the freezer and allow it to defrost at room temperature before use. After each use, put the remaining saffron in the freezer. Be careful that the saffron you use is not fake. To find out if saffron is fake or pure. Put the saffron between your fingers and press. If the oil does not return; It means it is pure. Fake saffrons are usually shiny.
3- Points related to onions
If we want to briefly explain the use of different types of onions, we should start with the yellow onion, which is the most famous member of the onion family. This onion is the best choice for cooking. White onions have a milder flavor than yellow onions. In terms of application, it is almost like red onion and can be eaten raw or used in salads and dips. This onion is also the best choice for Mexican dishes. Red onion has more fiber than white and yellow onion, and because of its beautiful color, it can be used to decorate the food plate. In addition, it is a good choice for grilling, salads and sandwiches. Red onions do not add enough flavor to the food; Therefore, they are not used for cooking.
How to prepare vegetarian bean pilaf
1- First, chop the green beans to desired size and fry them with two to three spoons of oil for 5 minutes.
2- Chop the tomato along with the peeled onion, garlic and red bell pepper and put it in a food processor or mixer and beat for a minute until all the ingredients are completely pureed. Pour the prepared puree into a suitable pot and put it on the gas stove and let it boil on low heat for 15 minutes; Then add infused saffron, cumin powder, curry powder, salt and pepper and stir well, and finally add fried green beans to the ingredients.
3- At this stage, pour the rice that you have already soaked into the ingredients pot and stir well; Then add some butter and let the rice water drain, and then put a steamer and boil the rice. Half an hour later, your delicious and very nutritious bean pilaf is ready to serve, enjoy.