Parsi D: Cafe Omelet is one of the very delicious and simple omelets of us Iranians, which is very tasty and simple and you can prepare it as a delicious breakfast or dinner and prepare it with fresh bread.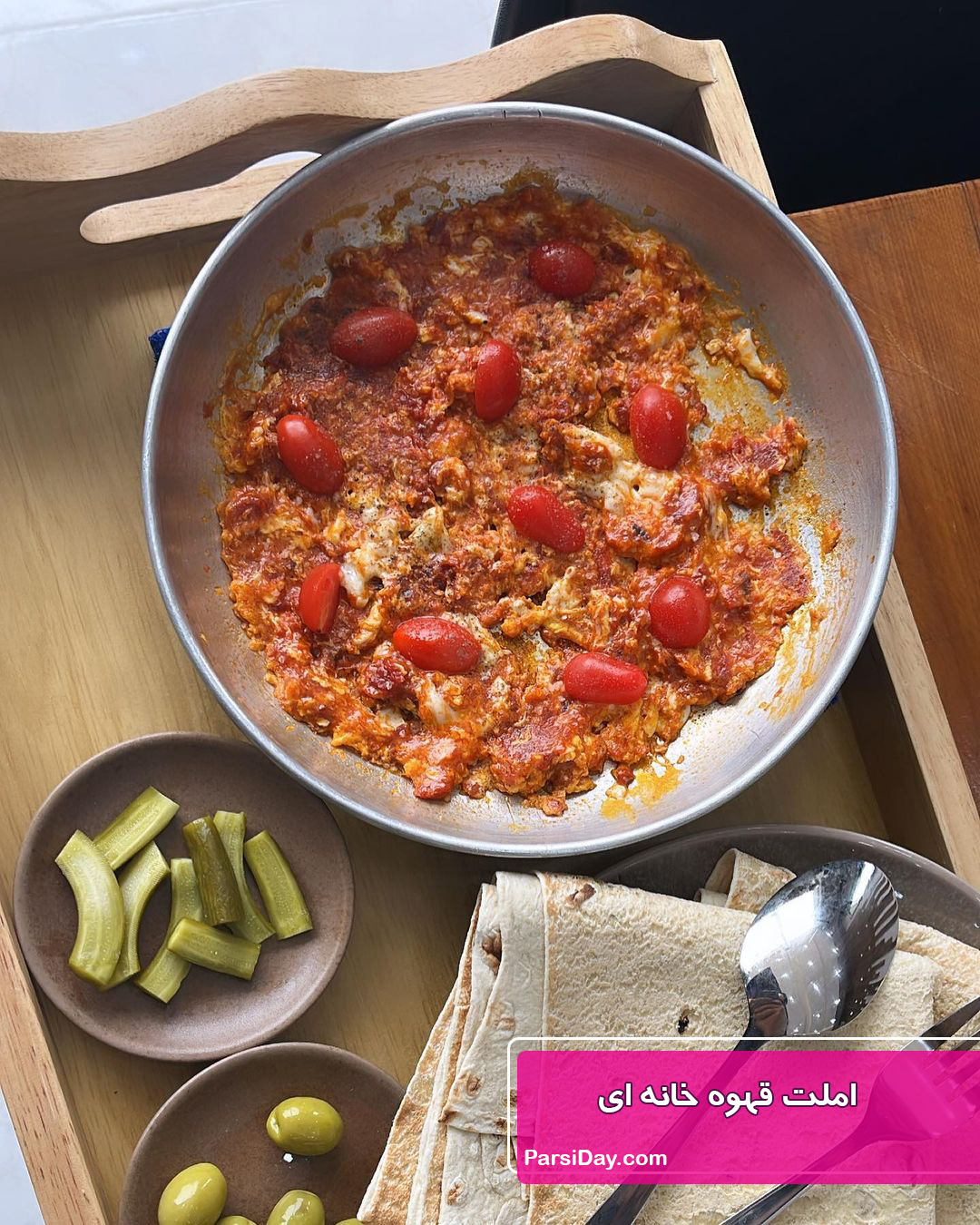 Coffee Omelette, which has become very popular among us, was prepared in old coffee houses, and today it is a regular breakfast staple in restaurants, which has many fans. But you can easily prepare a first-class omelet at home by following a few small tips and eat this omelet with onions.
Necessary ingredients to prepare a coffee house omelette with goha and paste
3 tomatoes
1 tbsp jam paste
2 eggs
1 teaspoon of lime
Oil and butter as needed
Salt, black pepper, turmeric, red pepper as needed
How to prepare a professional and delicious omelette
First step: Preparation of omelette ingredients
First, you should wash and grate the tomatoes and do not put the tomato skin in it, or you can take the tomato skin and mix the ingredients in a food processor or with an electric blender. Mix tomato puree, paste, spices and lime juice in a bowl.
Second step: roasting the ingredients
Next, pour a little oil and butter into the cast iron pan and when it is hot, add the prepared tomato mixture and stir until the excess tomato juice is absorbed and it starts to harden.
The third step: preparing the coffee omelette
When the tomato juice is drained, you have to break the eggs into the omelette and wait a little until you get your egg, then stir the white and then the yolk, and after 1 minute, remove it from the heat and serve it in a bowl with onions. And eat the fresh bread of this first-class omelette. Enjoy your meal
Tips and tricks for cooking a delicious cafe omelette with grated tomatoes
You can put a little parsley on the omelette and enjoy it.
Adding red pepper depends on your taste and you can add more or less.
If you like the taste of garlic, you can roast one or two cloves of grated or pureed garlic with tomatoes or use a little garlic powder.
In some recipes, bell pepper is used, or tomatoes are cut into small pieces, which is completely optional.
When you want to add the eggs, it is better to add a little more oil and then add the egg to the ingredients.