Hamshahri Online: According to residents and patients, the old doctor of the neighborhood, patients used to come to the doctor's office in a very bad mood and after consulting the doctor or his help, they would leave happy and smiling. Although Dr. Khatami no longer practices medicine after the spread of the Corona virus, the residents are still inquiring about his health and constantly visit him and ask about his health over the phone.
Trying to reach a higher position
I ask the doctor to tell us about the distant past. Dr. Khatami begins his conversation with this sentence: "I have 29 years of teaching experience in the Department of Education. It was in the early 1930s that I entered the University of Tehran after studying in a preparatory college and studied physics until the bachelor's degree. After spending 2 years, they gave me a physics engineering degree, but in the same years, due to the needs of society, I entered education and taught as a teacher in many girls' and boys' schools.
It has been 15 years since I taught in girls' and boys' schools, I decided to study again to improve my education level. I wanted to continue the same field of physics until high school. The master's degree had not started yet. Some of my classmates went abroad and continued their studies, and since the master's and doctorate courses were at the same time, they returned with a doctorate degree. I thought of finding a way to make my wish come true. On the other hand, I was married at the age of 21 and had 3 children, I had to pay attention to their studies, their morals and their upbringing. I worked in different places. For example, I was working in Tehran Bank at that time. I asked the managing director of the bank to grant me a scholarship to study medicine and then work for the bank, but he did not accept.
One day, my university professor "Dr. Khamsavi" came to the bank to collect a hammer. He saw me and said what are you doing here? I said I am an accountant. He said, "You got a bachelor's degree to come and work in a bank? You could do this with a 6th grade degree!" I was very embarrassed. This made me think. 2 years after that day, I went to medical university. Then he went to my teacher and said that I obeyed your order. At the same time as I was working, I was accepted into the medical field of Tehran University and continued my studies. I immediately entered the medical course. At that time, they announced three times the capacity and apart from the scientific interview, they also asked questions about the family situation in terms of morals and personality. For example, they asked me about my age. Well, our periods started when I was 18 years old and I was 41 years old. They said, "You have to stand guard every night, can you?" I said yes. They asked do you exercise? I said no professionally, but I exercise at home. Someone asked me, do you know wrestling? I said no! He said, "Then you will not be of any use to us!" He laughs from the bottom of his heart and continues: "Now I understand why he asked this question. When we examine the children, they grope us, take our phones, we really have to fight with them.
After completing 7 years of general medical course and 3 years of specialized course, I received my doctorate in pediatrics. The need of the society and the increase in infant mortality made me think of setting up a practice and give up the work of a teacher over time. At that time, there were only a few pediatricians, so I could serve more citizens. Finally, in 1356, I graduated from Tehran University in the field of medicine and opened my practice on Hashemi street, opposite Hazrat Ali Akbar (a.s.) mosque.
The office has 3 small rooms and a kitchen, and since then, Dr. Khatami's office has remained the same, and sometimes Dr. Mahal visits there.
Memories of Professor Gharib
During his studies, he was one of Dr. Qarib's students, and in his talks, he often mentions the character and effectiveness of Mr. Qarib's morals. We ask him to tell us about the time he studied medicine and specialized course in pediatrics, where he was a student of Dr. Gharib. Dr. Khatami says: "One day, a child was brought to the hospital with burns. A female doctor was responsible for his treatment. This lady took less care of her patient due to busyness and negligence. The next morning, Dr. Gharib, while visiting his patients, noticed that the child was not provided with services. Fori immediately called the doctor and asked her why she did not know the condition of this child, but she did not have an answer and started crying. The doctor said, "I want to pray for you, God willing, you will have a child who will get sick and there will be a doctor like you who will not reach your child." The doctor was informative. Now, thank God, I am healthy with the good prayers of the people. All Iranian people are kind and loving, but this affection is more evident in the southern neighborhoods of Tehran. When I was sick, they always asked me how I was and expressed concern. They have put me to shame with their kindness."
Dr. Khatami considers himself a servant of the people and says: "I am a doctor and I consider myself a servant of the people. Interest in children prolongs one's life and eases one's conscience."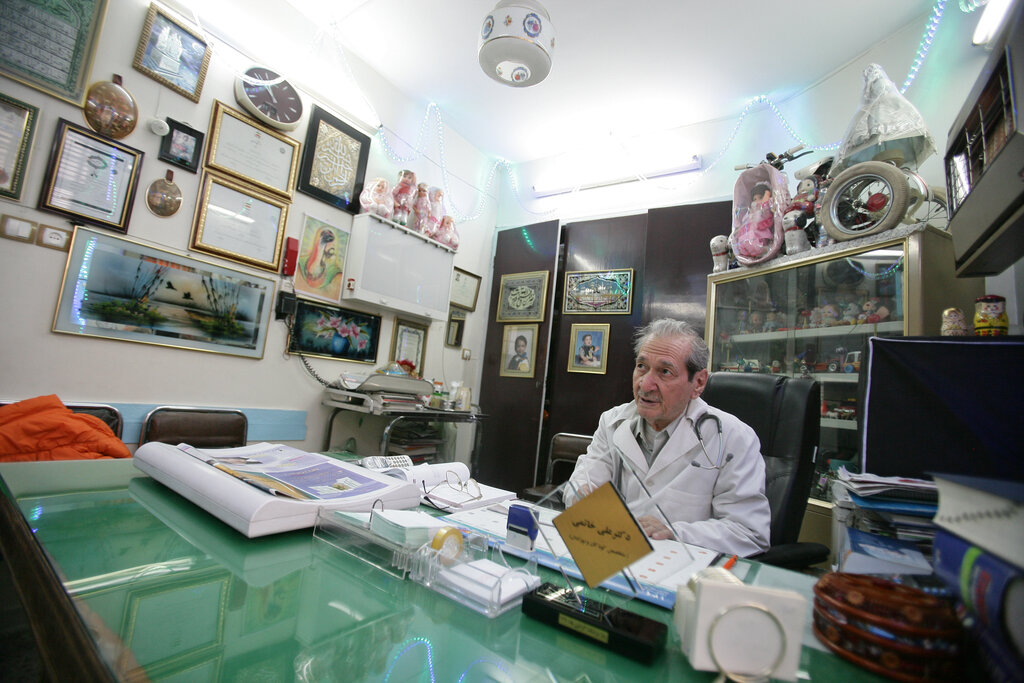 Free visit of the needy
"Naseem Akbari" was the secretary of Dr. Khatami's office for about 20 years, who used to treat patients like before Corona. Akbari has very valuable memories from the years of cooperation with the neighborhood doctor. "The doctor lives in this area," he says. Therefore, he is well acquainted with the living conditions of the residents. Many times, the patients who came to the office could not afford the visit, and the doctor visited them for free. Without even realizing it, he would put an amount to buy medicine in the insurance book. One day, I saw a patient come to the doctor's office and after the examination, he asked the doctor to write his medications in the notebook of another person that he brought with him, so that he could pay less. The doctor was upset by this move and said that it was a betrayal. Instead, he picked up the phone and called the pharmacy and arranged for the patient to give him his medicine for free. The doctor has always adhered to his beliefs, and as he says, he will follow the oath he took as long as he breathes."
When Mr. Doctor's heater heats the neighbor's house
One of the residents, who does not want to be named in the report, recounts a memory of the doctor's dealings with people and says: "One day, we were sitting in the office with my wife and little child waiting for our turn, but after a few patients came out, something happened. Something strange happened. When one of the residents came out of the room, Dr. Bukhari also held him by the hand to leave. Later, I found out that this neighbor did not have heating devices in his house, and that's why his wife and child were living in the cold. "Mr. Doctor even used the heater in his office to heat his neighbor's house."