The best: Cakes are one of the most delicious and attractive snacks that are prepared in different flavors and you can make these cakes at home with or without an oven.
Sand cake without oven is also one of these very delicious cakes that you can prepare in a double-sided pan and you don't need an oven anymore.
This cake is known as sand because of the state created on the cake with the help of coconut powder.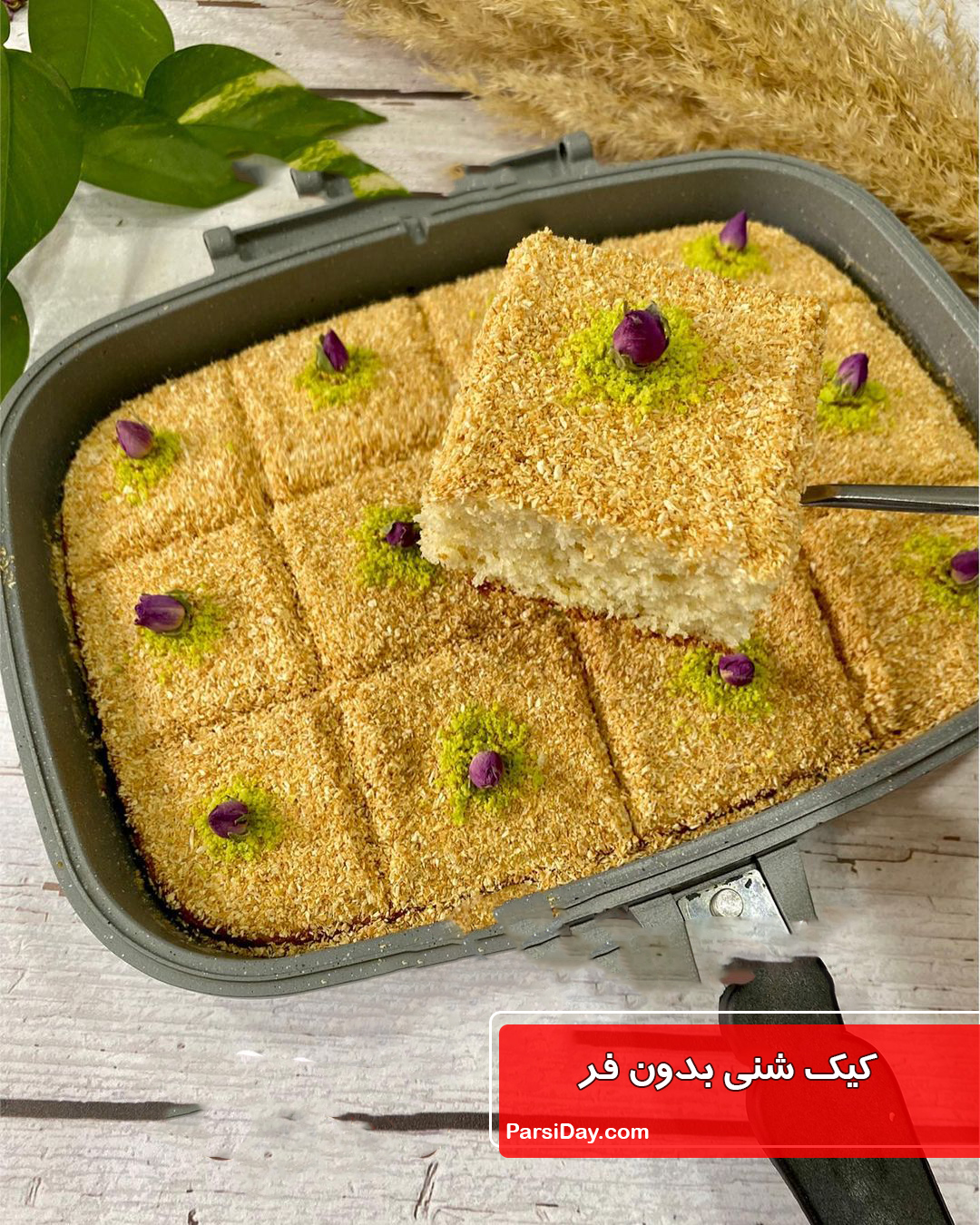 ingredients
2 large eggs
3/4 cups of sugar
1 and 2/3 glasses of flour (first sift 3 times and then measure)
1/2 cup liquid oil
Milk 2/3 glasses + 1 tbsp
Baking powder 1 tea spoon Sarkhali
Vanilla 1/8 tsp
1/4 teaspoon cardamom powder
Coconut powder 1 cup
White chocolate bar 30 grams
How to make sand cake without oven
First step: preparation
First, put all the necessary ingredients at room temperature until they are at room temperature, then measure the ingredients using a measuring cup or a glass. Put the spreader flame on the heat and let it heat up for 15 minutes.
Second step: stirring the eggs
Next, beat the egg with vanilla, sugar and cardamom in a bowl with an electric mixer for 7 minutes until it becomes creamy and elastic.
The third step: preparing the cake batter
Next, you should add milk and oil and stir until mixed, mix flour and baking powder together and sift three times and add to the cake ingredients in three steps and mix with a whisk or an electric mixer.
Step 4: Baking sand cake without oven
Next, you should pour the ingredients into a 20x30 double sided pan and place the lid of the pan and put it on a spreading flame and let it cook for 45 minutes with a very low heat, and after the cake is completely cooked, remove it from the heat and Wait until it cools down, fry the coconut powder for a few minutes on very low heat until it changes color, then set it aside. Chop the chocolate and mix it with 1 tablespoon of extra milk and put it on the steam of the kettle and heat it, then pour the chocolate on the surface of the cake and sprinkle roasted coconut powder on it and decorate with pistachio powder. Enjoy your meal
Tips and tricks for baking sand cake without oven
You can put the cake in the oven at 170 degrees until it is cooked.
Remove the orange washer from the pan.
If your pan is not diet and it is simple, be sure to put a blowtorch.
You can use honey milk instead of chocolate.
Be sure to put greaseproof paper on the bottom of the mold.
If you want to increase the height of the cake, use a smaller mold.