This is a place where every donkey will have its day — a small town just north of Mexico City that gives the beasts of burden a chance on May Day to kick up their hooves.The annual donkey fair in Otumba attracts up to 40,000 people who come to see the animals compete in costumes and race around a track with jockeys on their backs.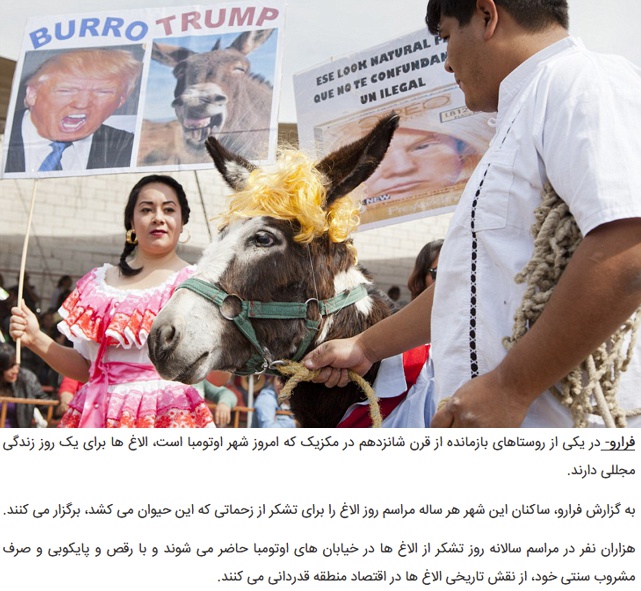 Tourists squeeze through the jammed fairgrounds wearing donkey ears and munching on classic fair cuisine, including the local version of burritos — a dish popular both north and south of the Mexican border that borrows the Spanish word for donkey.Costume themes for the animals ranged from the ride-sharing Uber to pre-Hispanic temples, and Donald Trump was a category in itself this year.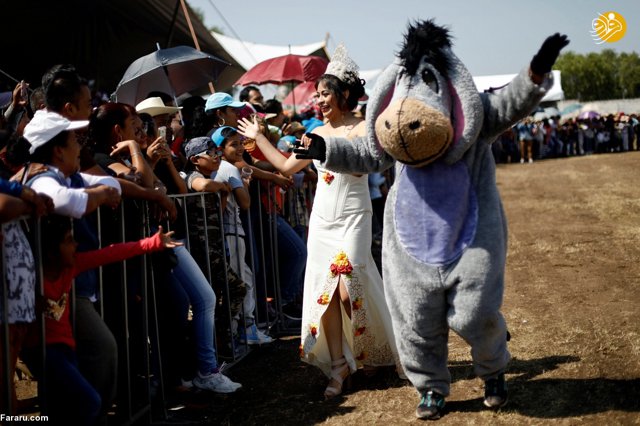 Four families dressed their donkeys in likenesses of the U.S.  president who has vowed to build a border wall to keep out Mexican immigrants he has called "rapists."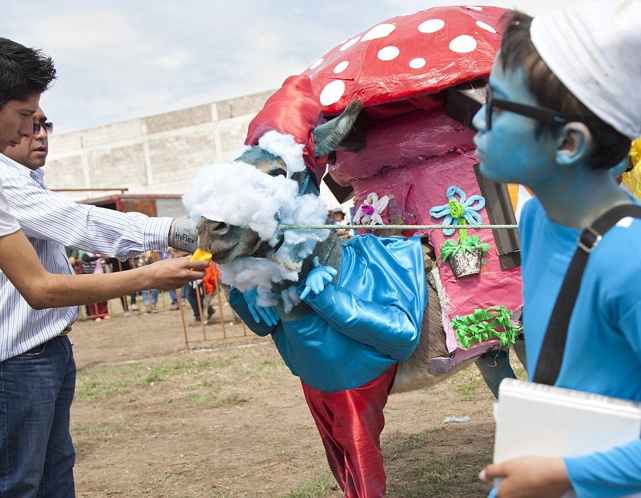 Adolfo Garcia Aguilar, who works on a cattle farm, said his family pitched in to dress his burro in a red tie, black boots and a blond wig. "We'll see how we do — if they kick us out, donkey and all," Aguilar joked before Sunday's costume competition.Other Trump-decked donkeys featured signs that declared: "Impostor! I'm the real Donald Trump!"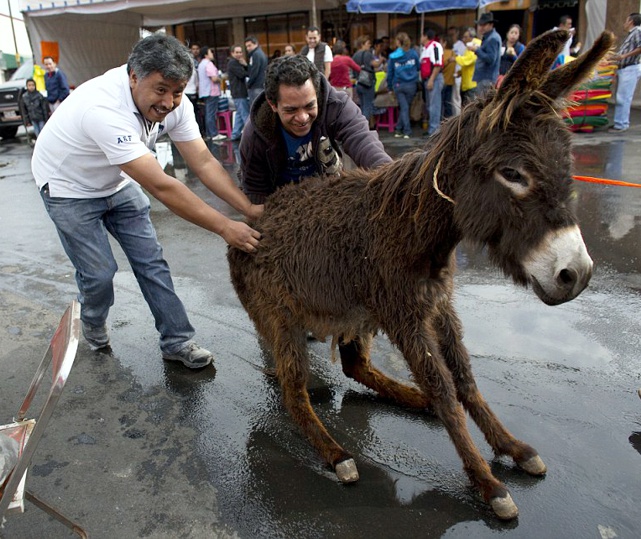 The town of Otumba, just ten minutes from the ancient Mexican pyramids of Teotihuacan, holds the bizarre festival on the first Sunday of May every year.It attracts more than 5,000 visitors to the 'Donkeydrome', where costume competitions, races and even donkey polo events are held.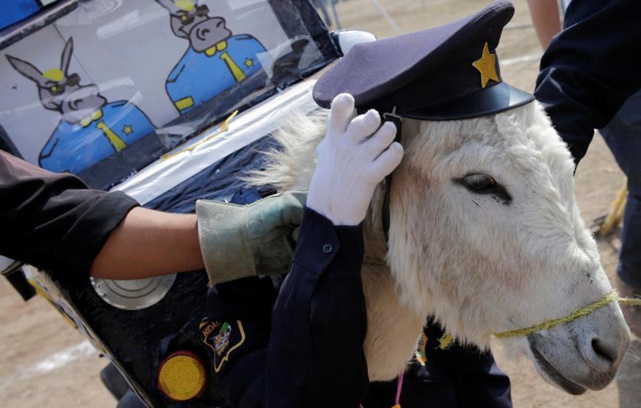 Despite its popularity, animal rights groups have condemned the event, claiming donkeys are tortured for the crowd's amusement.'It's a disgusting practice which sick people take pleasure from,' said Leonora Esquivel, the founder of Mexico's leading animal rights group AnimaNaturalis.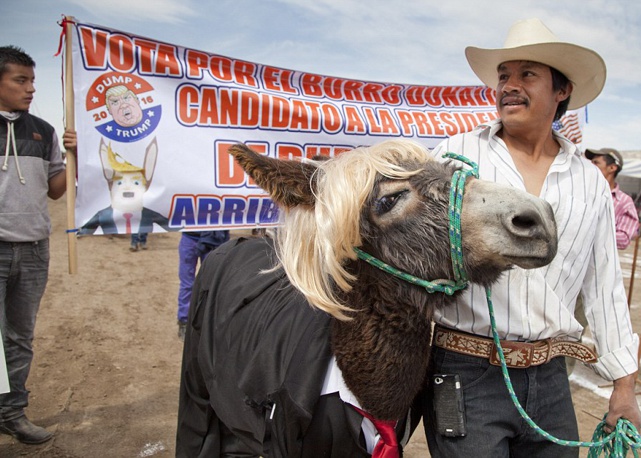 But Mexico State congresswoman Cristina Sanchez refused to see it as animal cruelty said: 'If anything it's a day off work for the animals.'Sanchez, who was guest of honour at the annual event, added: 'It's a great event that represents the local mind-set of hard work.'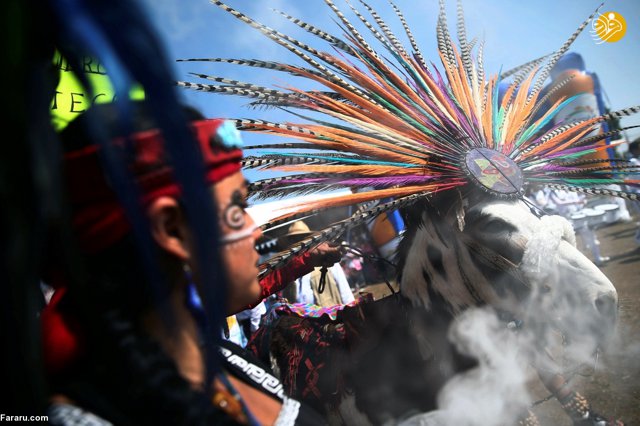 Another entrant dressed up both his pig and donkey up as Donald Trump and claimed while the donkey was an imposter, the pig was the real candidate for president.'They make a lot of noise, and can be very aggressive when they get scared,' said the reigning Miss Otumba Katy Gernantellez, 17, as she posed beside Mariachi Donkey, 'But the older ones are used to it by this point.'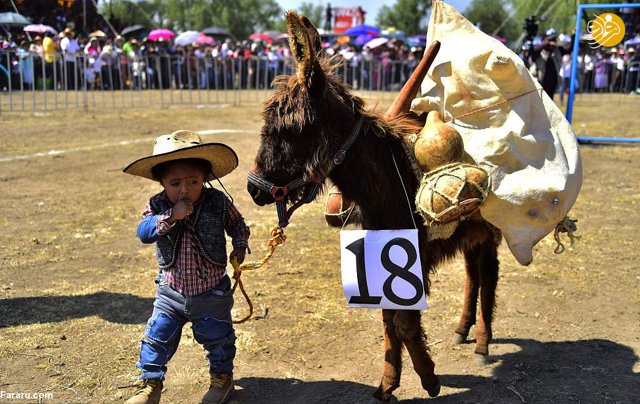 One of the most popular snacks sold at the festival is donkey meat, which is heavily seasoned with chilli and other spices to compensate for its tough texture and acrid taste.'We eat donkey all year round in this town,' said one seller, who was also offering grilled grasshoppers to his customers, 'It's a chance for our visitors to have a real taste of life in Otumba.'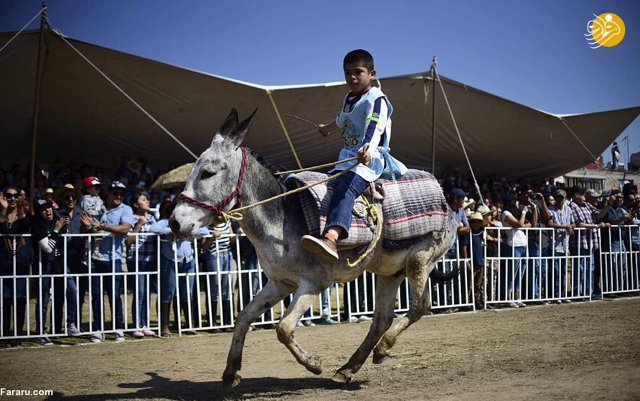 Following Smurf Donkey's lap of honour in front of the cheering crowd, the proceedings moved onto the donkey races where six animals were to complete a single lap of the 'Donkeydrome' track.Fully grown men acted as jockeys, each carrying a bamboo stick which they used to slash at their donkeys' necks and hinds in a cruel attempt to make them gallop faster.